Over 90,000 Steps
We felt we had walked a lot in Napa Valley. Once we settled into The Delta Ocean Pointe Resort in Victoria, BC, we pushed our step count over 90,000 for the week. Walking back and forth between downtown Victoria and our daughter's apartment 4 kilometres away made the activity add up in a fun way.
We left Napa Valley on March 17th and drove through to the Canadian border crossing in two days. There was a small window of good weather heading north and we were happy to go with it.
Shasta Lake is another beautiful area in California. The large green lake is visible from both sides of Interstate 5. A fire had been through the area near Dunsmuir, also in Northern California. We had just spent four months in different parts of the Golden State, from November 17th till March 17th. Now we were tearing through the next state.
As soon as you enter Oregon, you're funneled off with the big trucks going to the scales if you're carrying any type of watercraft. We had the kayaks strapped to our roof, so we followed the signage and had the mandatory boat inspection done.
We saw an arbutus tree for the first time in months. We arrived in Medford, Oregon, around 4 pm. The hotel had WiFi, good WiFi. No spinning wheel when we connected our devices! And hot showers with adjustable settings. I melted into the couch after a big restaurant meal.
The next morning we had a rocky start. We were both showered and dressed by 6 am. I thought we wanted an early start, but Jamie wanted to leave when it had warmed up. We packed our overnight bags, had the continental breakfast, checked out, and we were on the road just after 6:20 am. Jamie was nervous about the temperature dropping below zero so we pulled into a rest area about 20 minutes later and waited for the sun to warm the air around us.
We hit fog between Grants Pass and Roseburg, Oregon. It was a chilly 1 degree Celsius. We could see Mount St Helen as we got closer to Portland. We got in around 2:30 pm to the Olympia, Washington area. It had been a long travel day, and we had to turn around a couple of times while trying to find the entrance to the hotel. This turned into an ugly end to the day.
I took Jamie's suggestion for dinner to avoid the fatigue of making another decision, then realized I had eaten eggs for breakfast, lunch, and dinner. When we walked that evening, I thought it was the heat that was making me dizzy. I'd still like to think it was the heat and the long hours we had been in the truck that day, not my body thinking more than a half-dozen eggs were the wrong choice.
The 19th was another full day. Neither of us slept well the night before. We left by 6 am and hit heavy traffic from Lacey, Washington to Seattle. We got to the Peace Arch Border Crossing around 9:30 am. There wasn't any line-up at that time. We didn't pay duty charges and no inspection of our trailer. We were waved on through with a smile. We had worried about being gone so long in the US, and our slide had to be plugged into shore power to open (a new development since Napa Valley). In our minds, we thought we'd be detained for every small detail, be questioned about our travels, and now we were on our way to the ferry for Vancouver Island!
We arrived at the Tsawwassen terminal just after 10 am. Not realizing it was spring break for the kids from school, we were told we might have a wait, but we got on the 11 am sailing. After dropping the Coffee House off for warranty work, we next checked into the Delta Ocean Pointe around 2 pm. The room was gorgeous.
We were on the 4th floor with a full harbour view of the seaplanes, whale watching tours, ferries to Seattle and Port Angeles, pickle boats, the new Johnson Street Bridge, the Parliament Buildings, and the Empress Hotel. We watched the remediation project at Laurel Point, the Olympic Mountains in the distance, and with the zoom of Jamie's new camera, he captured Captain George Vancouver, the statue perched on the dome atop the Parliament Buildings. The Captain is seven feet tall and faces due north, and he is made of copper, with gold leaf. Jamie also captured Queen Victoria, who has been on the grounds outside Parliament since 1914. On one of our walks past City Hall, Jamie focused on the clock tower. Standing at 105 feet tall, and built in 1890, it's one of my favourite spots in Victoria.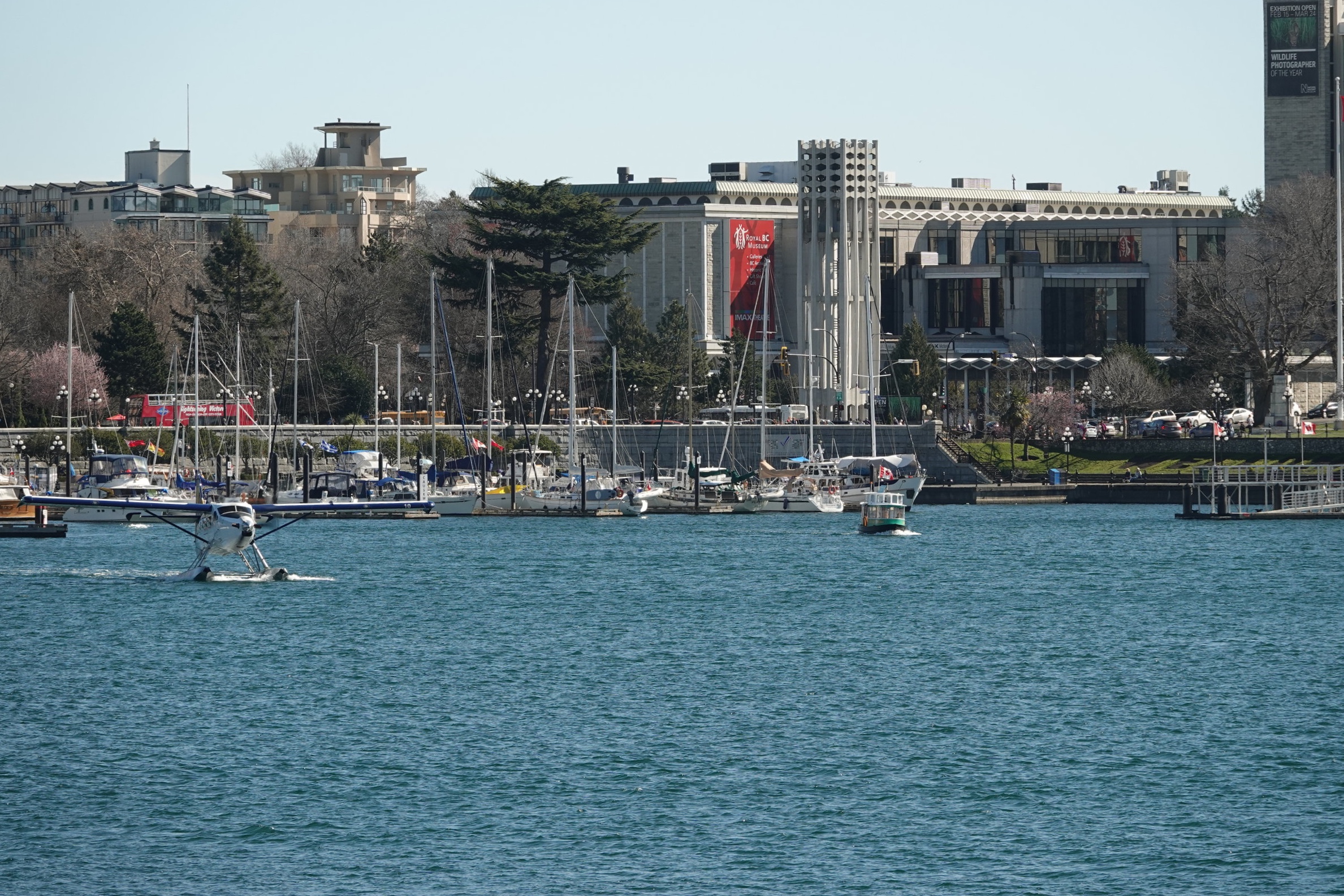 Jamie had ordered a new camera while we were still at Morro Bay, and it had been sent to our daughter's apartment. The day we walked over to pick it up, we put 20,000 steps on our fitness trackers.
We spent our week catching up on laundry, doing our taxes, and visiting with family. Our trailer was serviced, then parked on a family member's front lawn for the next month. We had our mail forwarded to our daughter's place from another family member's home, and I spent an afternoon opening and sorting it all. We ended the week with a pickle boat tour of the Gorge. They run the electric boats through the Gorge Channel, and the smaller boats, running diesel, cover the other routes. That afternoon we lunched on vermicelli bowls, just like old times. Thank you, Devon, for making that memory with us.
Getting our mail sent to a family member's home seemed the best option when we sold our house in Sooke, BC. We had it forwarded to us on the road a couple of times while traveling. Not having mail was in some ways great, in other ways not.