Losing it All in Paradise
Californians have a different perspective about merge lane speeds than we have in Canada. We were cut off a few times because the vehicles merging slowed down instead of speeding up to enter the flow of traffic on the freeway. When you're 40 feet of truck and trailer, this is disconcerting. We often didn't have the room to move over a lane, and slowing down wasn't safe either.
Driving from Morro Bay to Napa Valley, our fuel mileage was 14.4 mpg. This was the best mileage we'd seen while pulling the Coffee House. We saw rolling green hills, orchards, vineyards, and cattle farms while driving through California. Other than the merging traffic, we were relaxed and enjoying the scenery.
We didn't notice right away that it was Daylight Savings when we woke that morning, March 10th, to pack up. It was still raining, but we were able to leave by 8:30 am. We arrived at the Skyline Wilderness Park in Napa Valley by 1:30 pm. The electric hitch jack would not work when we needed it for set-up. Jamie had to hand-crank the jack to get the trailer detached. Jamie found out from a good friend that there's a fuse in the jack (hidden underneath the framework) that can be replaced. The good news was that we had fuses with us, the bad news was that neither of us knew where they were stored. The inventory list of everything we had with us, the one we compiled in Arizona, came to the rescue again.
We had a lovely sleep-in. It was unbelievably quiet in the Wilderness Park. We heard frogs! We hadn't heard frogs since we'd pulled out of our driveway in Sooke, BC.
We drove through town to do some shopping at Walmart. There were lovely stone and brick buildings in the town center. We found everything to be peaceful about Napa Valley, even shopping at Walmart.
We went for a walk on the nature trails behind the RV park. We got turned around a couple of times and were sure we were lost. It was mucky after all the rain that had fallen in California. With the rain and the cold we had in Morro Bay, we were happy to be outside in the sunshine. Turned out we were going backward around the trail loop. The map on the board at the start of the trail wasn't very helpful, and the signage on the trails was confusing.
We felt out of shape to be climbing. Beach walking and walking through town walking wasn't the same as hiking uphill. We walked up the main trail to have our dinner wraps at the picnic table with a view of the park, the vineyards, and the archery range. Another day, we took the lower trail to the right. Lots of mountain bikers passed us. We could see the ocean on the other side of the ridge. We walked for over 1.5 hrs. Blue sky, little wind. We recorded a vlog to capture our thoughts about the road ahead of us.
I booked hotels to get us back to the Island. We also booked The Delta Ocean Pointe Resort in the Victoria Inner Harbour. A King bed with ocean view. A two-week stay. From a 20 foot trailer to a king-sized bed, what would we do with all of the space?
We were shocked to learn that it was back in 1997 when we had our first In-N-Out Burger with a friend in San Diego. Over 20 years ago! There was an In-N-Out in Napa Valley so we went of course. We asked for stickers and put the new bling on the bumper of the trailer.
We talked about the cost of moving. RV life in California had been an average of $400/week. We would be paying much more on the route back to Canada and would continue to spend a lot of money before we could settle down out east. There was a lot of loose ends to tie up in Victoria, and we knew when we left the Island with our trailer, we had to leave with everything we owned this time.
Jamie talked with Mike, a neighbouring camper, and Mike told him that he and his wife had lost everything in a fire in Paradise, CA, back in November. He later showed both of us remnants from their home. He had collected coins, but these coins were now completely worthless because the markings were burnt off and only the silver remained of any value. We also learned that we would need chains to get through the passes around Medford, OR. We didn't even know to check on this. If we were going after April 1st, we wouldn't need them, but Jamie ordered some just to be on the safe side because we didn't want to be fined for not carrying them with us to go through that mountain pass.
The fire that Mike and his wife survived gave us a new perspective about the value of our own stuff. Mike showed us more items in a bucket he had. Each piece had a story. Melted glass with coins stuck in it, his stopwatch. He'd had the coins in his gun locker. He didn't have time to get his paper money out of his safe. He explained that the fire came so fast they didn't have time to get anything but themselves and their dog into the truck. The heat was extreme, and the whole town burnt to the ground.
In a few weeks, they would be heading to Montana, where a new house was being built for them. They considered rebuilding in Paradise, but the ground was left toxic. They decided on a fresh start. They'd been living in their travel trailer for four months, since the November fire.
Jamie and I took another walk, this time on the lower trail. We started from the gatehouse and walked alongside the disc golf course over to where the horse circle was. Then we got on the trail and walked about a half hour before turning around and walking back. We saw the sun setting, we saw goldfish in a cement pond, a cave, lots of scenic viewpoints, we heard wild turkeys, saw the shooting range, and of course, Jamie took lots of pictures.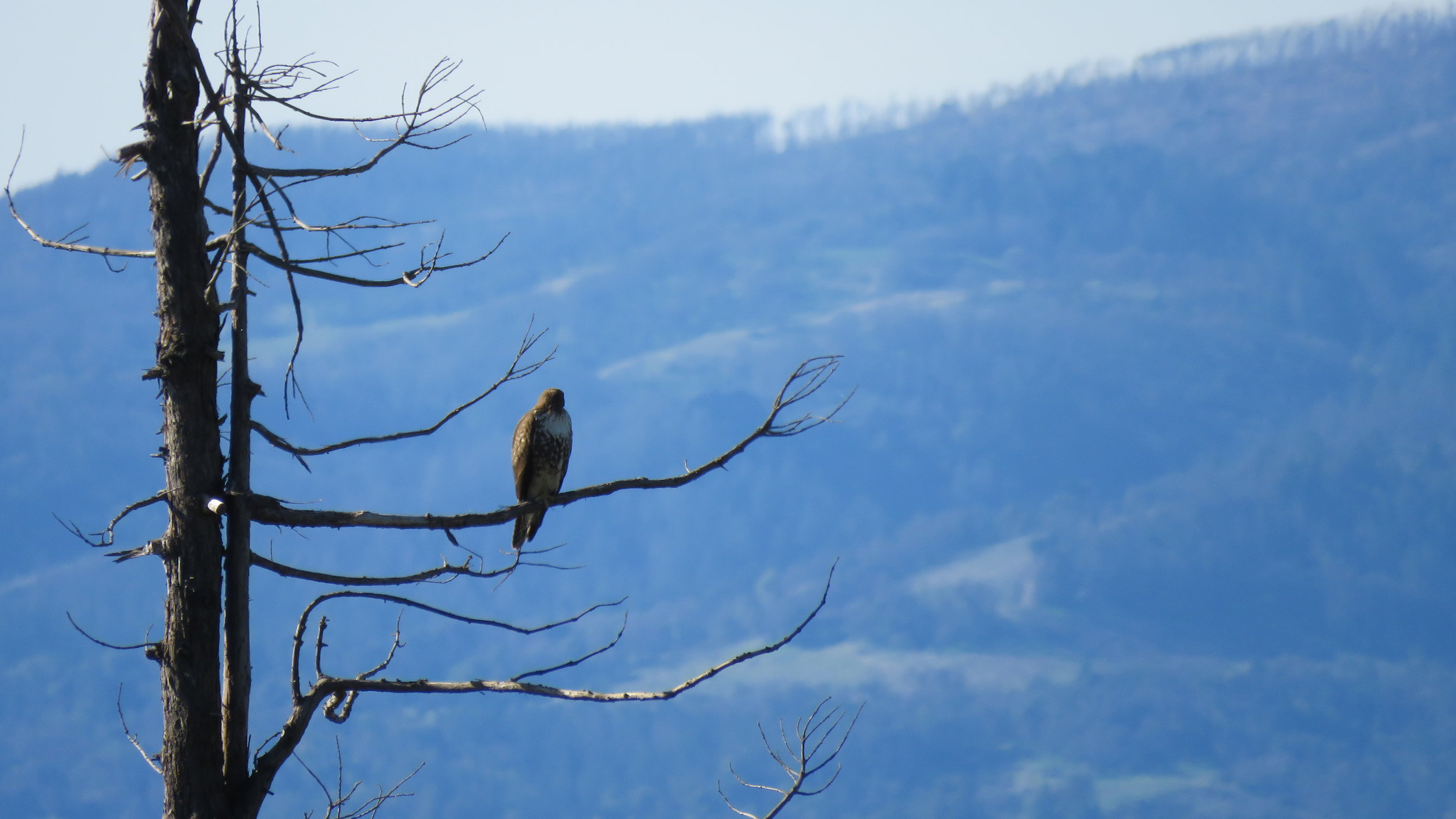 We had to prepare the trailer and truck that week for travel. The trailer needed to be packed for the warranty work we had scheduled when we reached Victoria. We needed to organize for the border crossing, and we wanted better access to clothes for our hotel stays. I was excited about hotel showers.
March 16th was our last night in the Coffee House for more than a month. We had no idea then how long we would we be staying in hotels, or how we were going to travel to the east coast.